Treat Your Thighs This Summer with Thigh Society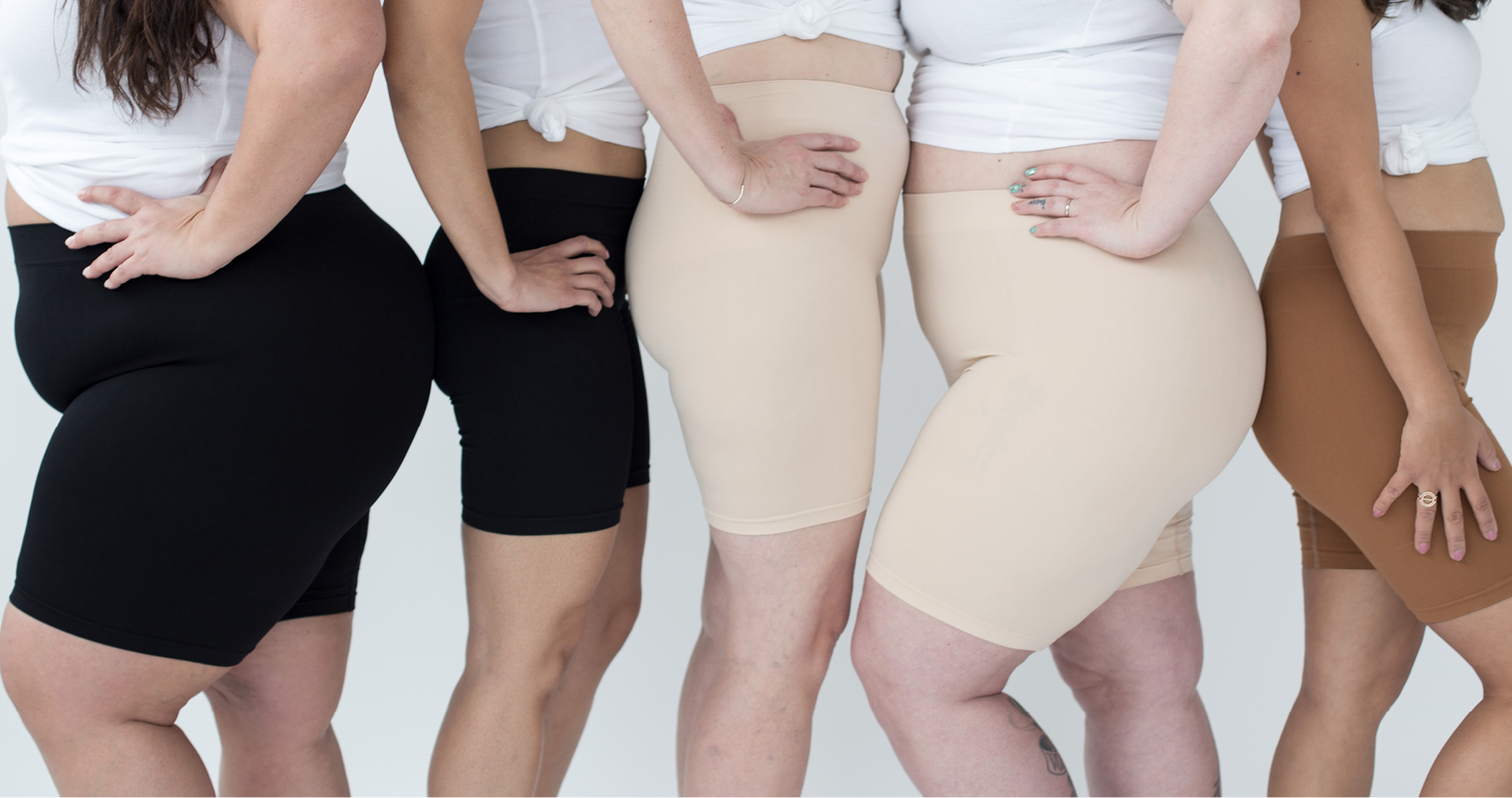 With our thermostats climbing into sundress-friendly territory, we've got visions of patio cocktails and long walks through the city dancing in our heads. A not-so-dreamy warm weather thought? The inevitable and dreaded thigh chafing that comes with our most swingy and breezy frocks. This season, we're counting on Thigh Society Slip Shorts to have our backs (or thighs, rather!) all summer long. We sat down with the brains behind the brand (a.k.a. Chief Anti-Chafing Crusader), Marnie Consky, for the story behind Thigh Society and her body positive mission.

DARE: When and how did the idea for Thigh Society come about?

Marnie Consky: Back in June 2008, I was walking downtown in a sundress at lunch on the first really hot day of the season. After about five minutes in the scorching heat, I started to feel that oh-so-familiar-in-a-very-bad-way burning sensation between my thighs. I found the closest pharmacy, and bought some baby powder—I knew there was no way I was going to be able to walk back with bare legs. The powder got everywhere, left marks on my dark sundress and was gone by the time I made it back to my office. This disaster got me thinking that there must be a better way! I spent the rest of the summer scouring shops in hopes of finding long leg underwear that were breathable, wicking, and wouldn't squeeze me in like a sausage. I tried over a dozen creams, powders, and gels but nothing lasted on my skin for longer than a few minutes. I posted on online forums looking for help and no one could suggest any good alternatives, so I set out to develop my own and that's how Thigh Society came to be.

DARE: Are there any memorable "aha!" moments from first starting your business?

MC: Yes! At the very beginning of this journey, when I first started asking friends whether or not they had experienced thigh chafing, almost all replied with a resounding, "Yes! I thought I was the only one!" And these were women across a broad range of sizes, body types and ages. I knew I was onto something when people wanted to keep talking about it. It was like I had opened the floodgates on a taboo topic. We commiserated, since everyone had a horror story to recount about a time when they had been unprepared for the onset of thigh chafing. I wanted to channel all of these conversations into something we could laugh about and speak openly about without shame—and ultimately create a solution to the problem.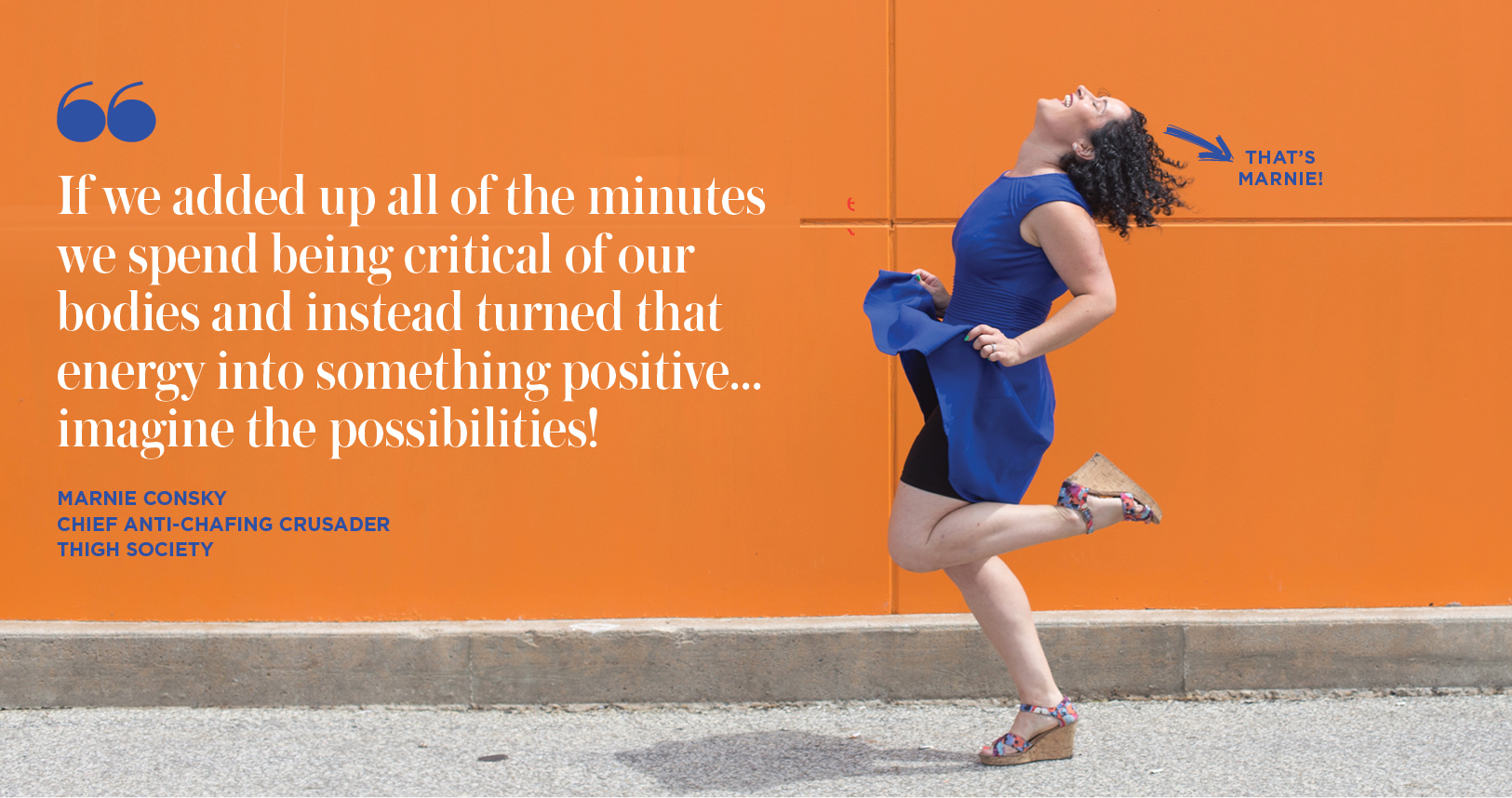 DARE: How are Thigh Society Slip Shorts different from other anti-chafing solutions?

MC: They're the most comfortable, breathable, and moisture wicking Slip Shorts to prevent inner thigh chafing. They are lightweight and seamless, so they won't show any visible panty lines. Our fabric has 4-way stretch which means it will mold to your curves without you having to pull and tug to get them on or off. They're also comfy enough to sleep in. Seriously, they are NOT shapewear! Plus they can also double as underwear, because who wants to keep adding on more layers?! Thigh Society is also your secret weapon on windy days when you're wearing a wrap skirt, riding your bicycle in a dress, or on your period when you don't want something pressing against your already bloated tummy. They provide great opaque coverage under sheer fabric, and cover up spider veins, stretch marks, skin conditions and cellulite—which I'm totally cool with showing off because all bodies ROCK in all their glory, but everyone has their hang-ups. We've had pregnant customers rave about our shorts (we recommend going up a size to be sure they'll fit to accommodate a growing bump) and also women who have recently undergone surgery, since they don't pinch or bind.

The product itself has evolved over time—we started with cotton/bamboo blend shorts and eventually phased them out as we moved into seamless microfiber. The seamless shorts offer the same comfort, softness, and breathability but with better moisture wicking and no V.P.L. (visible panty lines).

DARE: Tell us about your anti-chafing crusade and Thigh Society's body positive mission.

MC: Thigh Society's body positive focus is 100% integral to the brand. If reading one of our social posts or newsletters allows a woman to love her body just a little bit more for the hour, day, month or a lifetime—then we're achieving our goal. The fact that we can provide her with an undergarment that gives her the freedom to dress how she chooses—even better! I struggled off and on with my weight and body image since I was a teenager and I often wonder how different it would have been if I'd had access to more body positive imagery, stories, and role models like we have now. I strongly believe that the more we expose ourselves to body diversity, the more we can see beauty in all of the bodies around us, especially our own.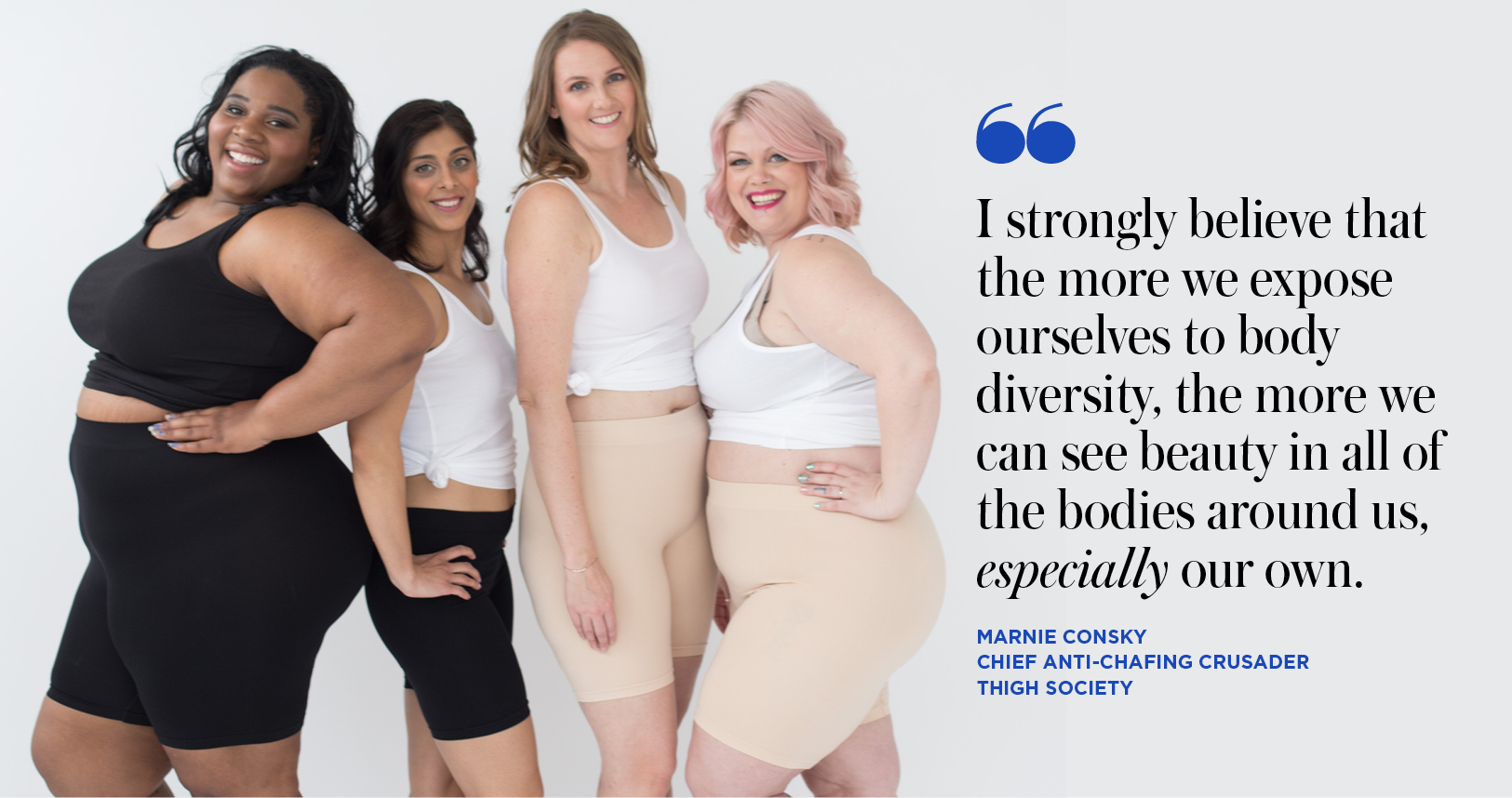 DARE: What gets you excited to get out of bed in the morning?

MC: I never get tired of reading notes and emails about how Thigh Society has changed someone's life (and wardrobe!) by allowing her to dress confidently, comfortably, and free of shame. Being a Body Positive Warrior and having an impact on women's body confidence is what keeps me going. If we added up all of the minutes we spend being critical of our bodies and instead turned that energy into something positive… imagine the possibilities!

I'm so tired of thigh chafing being perceived as exclusively a plus size woman's issue or something to be ashamed of. It can happen to anyone because it has to do with friction, sweat, and skin sensitivity. It's a totally normal, albeit unfortunate, function of the human body.

DARE: Is there anything you can tell us about future plans for Thigh Society?

MC: We have so much going on! The last month has been busy with videos and photoshoots that I'm SUPER excited to share! I'd love to keep expanding our product line to include new colours, styles and sizes from our customers' wish lists. We'll continue to be a part of the body positive movement and we have some fun surprises in the works. I'm excited to keep building the Thigh Society brand so that everyone has a solution to thigh chafing and never has to experience it again.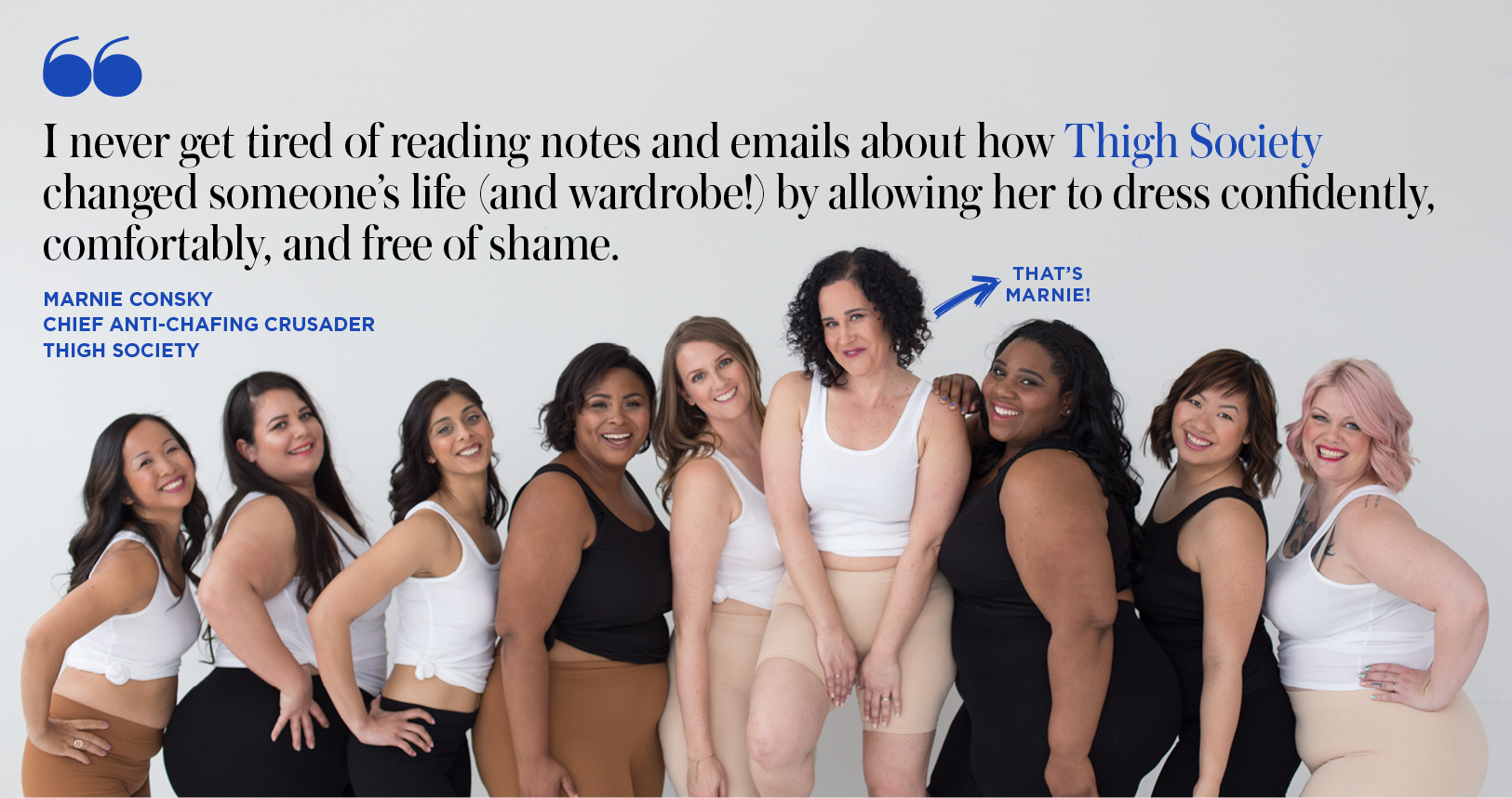 Treat your thighs this summer with Thigh Society!

This post is sponsored by Thigh Society.